Have You Heard?
"Star Trek" icon
George Takei
is lending a hand -- or, rather, a finger -- to the battle for marriage equality in Alabama by helping to launch a social media effort in protest of that state's
halt on same-sex marriages
earlier this week.
The actor and outspoken lesbian, gay, bisexual and transgender (LGBT) rights activist shared a photo of himself with his husband, Brad Takei, on
Instagram
and
Twitter
calling for his followers to give Alabama "the wedding finger" in response to the state's
apparent backtracking on marriage equality
.
"I'm going to say it. Alabama is really starting to piss me off," Takei wrote in a separate
Facebook
post.
In an email sent to The Huffington Post, Takei said:
I was genuinely dismayed to hear that a state's highest court would flout a federal court order, which was left to stand by both the Court of Appeals and the U.S. Supreme Court. This is grandstanding at its worst, and it is extraconstitutional.

You know, 60 years ago it wasn't considered a real marriage if a white person wanted to marry an Asian American like me. And now look, I married a white dude. Times change. Attitudes change. And for the better.

We decided to speak out in this somewhat tongue and cheek way to make an important point. It is all about love, and we, as a same-sex couple, just want the same right to have our love recognized.

We hope enough couples, gay and straight, join with us to make this point. We'll be collecting up the pics, all tagged with the hashtag #LuvUAlabama plus each couple's home state, to create a mosaic of support for marriage equality. We hope Alabama, too, soon joins the right side of history, as all of America one day will.
Others on Twitter, Instagram and other social media outlets quickly followed Takei's lead:
From the good doctor in #NY. #LuvUAlabama
@JoeMyGod pic.twitter.com/29GAHl66wa

— Marriage Equality (@MarriageEqualty) March 4, 2015
Disgusted with the Alabama Supreme Court's choice to promote hate and bigotry #LuvUAlabama #Mo pic.twitter.com/uZ1mHhppcL

— Tricia (@Boudica03) March 4, 2015
#LuvUAlabama #WV My now HUSBAND @glavaris and I a few years back. We WON in WV. Keep it up AL!!! pic.twitter.com/GBHfOHgo9n

— Justin W Murdock (@CitizenMurdock) March 4, 2015
You'll have to pry it from my cold, dead fingers. #LuvUAlabama pic.twitter.com/va1imv5ees

— The Hairy Gaytheist (@jhitchin) March 4, 2015
Only time will tell if the effort will have an impact in Alabama, where the battle for same-sex marriage has taken some unexpected twists in recent weeks.
In January, a federal judge found that
the state's ban on same-sex marriage
was unconstitutional, while a number of probate judges promptly
refused to comply
with the ruling.
Although the U.S. Supreme Court
refused in February
to halt same-sex marriages in Alabama, the Alabama Supreme Court ordered
probate judges to stop issuing marriage licenses
to same-sex couples statewide in what has been deemed "
a defiant ruling
" on March 3.
Adam Levine is best known for being a famous rock star and coaching aspiring singers on "The Voice," but for one boy with Down syndrome, he's much more.
Christopher Warner,
from Marriottsville, Maryland, is a huge Maroon 5 fan and an even bigger fan of the band's popular frontman, according to Today.com.
"He has just been fascinated with Maroon 5 and
especially Adam Levine
," Avery Stanert, a special education teacher at the 10-year-old's school told the outlet. "He loves to listen to their music during work breaks. He draws pictures of them. He just absolutely loves them."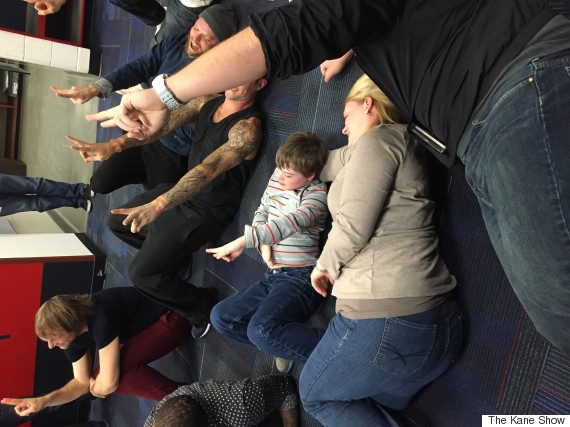 Stanert decided to make a video
capturing the 10-year-old's love for the star and thanking Levine for his positive impact on the boy's life, according to ABC News. The teacher tweeted the
video
at the hosts of radio station Hot 99.5's "
The Kane Show
", who helped arrange a meeting between Christopher and Maroon 5.
This past Monday, the young fan got to enjoy a Maroon 5 concert in Washington, D.C., and meet his idol as well as the rest of the band backstage, Today.com reported.
Christopher's mom, Cecilia, who attended the event with her son and four teachers from his school, said one moment in particular stood out and showed Levine's sense of compassion. When Christopher first encountered the rock star, he got a bit nervous, but Levine didn't hesitate to make him feel comfortable.
"He was very shy at first. I kind of got down on the floor and he was hiding behind me," Cecilia told ABC News. "Then Adam said 'That's OK, we'll all get down on the floor.' It wasn't beneath him to lay down on a locker room floor with Christopher."
While the moment was a dream come true for the 10-year-old, he's not the only one who had a special experience.
"
He's an awesome kid
," Maroon 5 keyboardist PJ Morton told ABC News. "I got a high-five!"
Watch Avery Stanert's video of Christopher's appreciation for Adam Levine below:
Like Us On Facebook
Follow Us On Twitter
Derick Dillard, husband of
19 Kids and Counting
daughter Jill Duggard, has something of
a PR cat-astrophy
on his hands.
Dillard posted a gross video to Instagram last weekend. It shows him apparently trying to steer a cookie pan-cum-sled into a sweet orange feline, who'd had the misfortune of sharing a snowy hill with some members of the reality TV clan.
"Move, cat," Dillard seems to say, before receiving a shove from brother-in-law Ben Seewald.
Onlookers cheer and laugh. And the cat, phew, makes a last-second dash to safety.
Dillard's reputation, however, has not yet been similarly spared.
But lucky for Dillard, we've got the perfect solution to his public relation woes.
In case you missed it, here's the video:
19 Kids and Counting
airs on TLC, which is part of Discovery. Shannon Llanes, a spokesperson for Discovery, told The Huffington Post "no comment," when asked for a response to the video.
Dillard, too, has yet to make a statement about the video (and it's not like he and/or his people have been silent on all matters;
a great-looking recipe for no-bake cheesecake recently appeared on his Facebook page
.)
Plenty of others have had lots to say.
Some of the gentler critiques have involved
accusations of animal abuse
.
Religious hypocrisy
has come up, too.
For example, People for the Ethical Treatment of Animals has
reportedly asked Dillard to apologize for the incident
on those grounds.
"PETA is asking him to apologize publicly for his actions and remind his followers that Jesus' command to 'do unto others' includes all of God's creatures," said Sarah Withrow King, Director of Christian Outreach and Engagement -- who knew that's a thing? --
according to E
.
We think Dillard is uniquely positioned to do even more than that.
He's already used that massive platform of his --
more than 450,000 Instagram followers
, along with
a stupendously popular TV show
-- to show what a jerk he can be toward animals.
So how about now modeling some kindness to all those people, paying attention to his life?
For example, he might try taking some of those 19 kids and their expanding progeny -- he and Duggar are
expecting a baby soon
-- to visit an animal shelter. We bet videos and photos of that bunch spending time with some homeless furry critters would help rehabilitate Dillard's image -- plus might get some pets families of their own.
Alternatively, we'd be pleased to see the father-to-be
bring home a foster pet
-- especially if he's received some training beforehand on proper animal care and treatment.
Dillard also could make a big donation to a local shelter or rescue group, and/or launch a pet food drive.
All these would be acceptable, and good.
But we think, the best way for him to really make up for what he did to that cat, and to his image, is to use his big platform to show some big support for pet spay/neuter programs.
Kitten season will be here before we know it, which means that shelters will soon be chock full of felines.
Sounds great -- except cats are the most euthanized animals in shelters. About
1.4 million of them are killed in shelters every year
, largely due to overpopulation.
Spaying and neutering is the best way to bring that rate down, by reducing the number of unwanted animals born to begin with.
These procedures also
help keep cats healthier and safer
.
We already hear your doubt. This is, after all, a guy whose celebrity stems from being associated with a famously birth control-eschewing family.
But that's the beauty in this idea: Spaying and neutering cats is a completely separate animal from humans controlling their own reproductive choices -- one that is widely embraced,
even promoted
, within religious communities.
Yes, we've given this more thought than we've comfortable admitting, and have come to believe there's no better way for Dillard to show that he cares about animals, and his reputation, than throwing his weight behind spay/neuter.
It'd definitely help make up for throwing his weight right at that poor cat.